In Loving Memory…
GCH, AKC/ASCA/CAN. CH. Howlyn Rustic Live Wire, UDX3, OM4, RE, VER, MX, AXJ, FDC, ASCA UD, RN, RNX, GS-N, RS-N, DNA-VP
80 OTCH pts, multiple HIT/HC Winner
 Best of Breed & Group placing
 First AKC GCH/UD Aussie
August 2, 2006 ~ March 7, 2022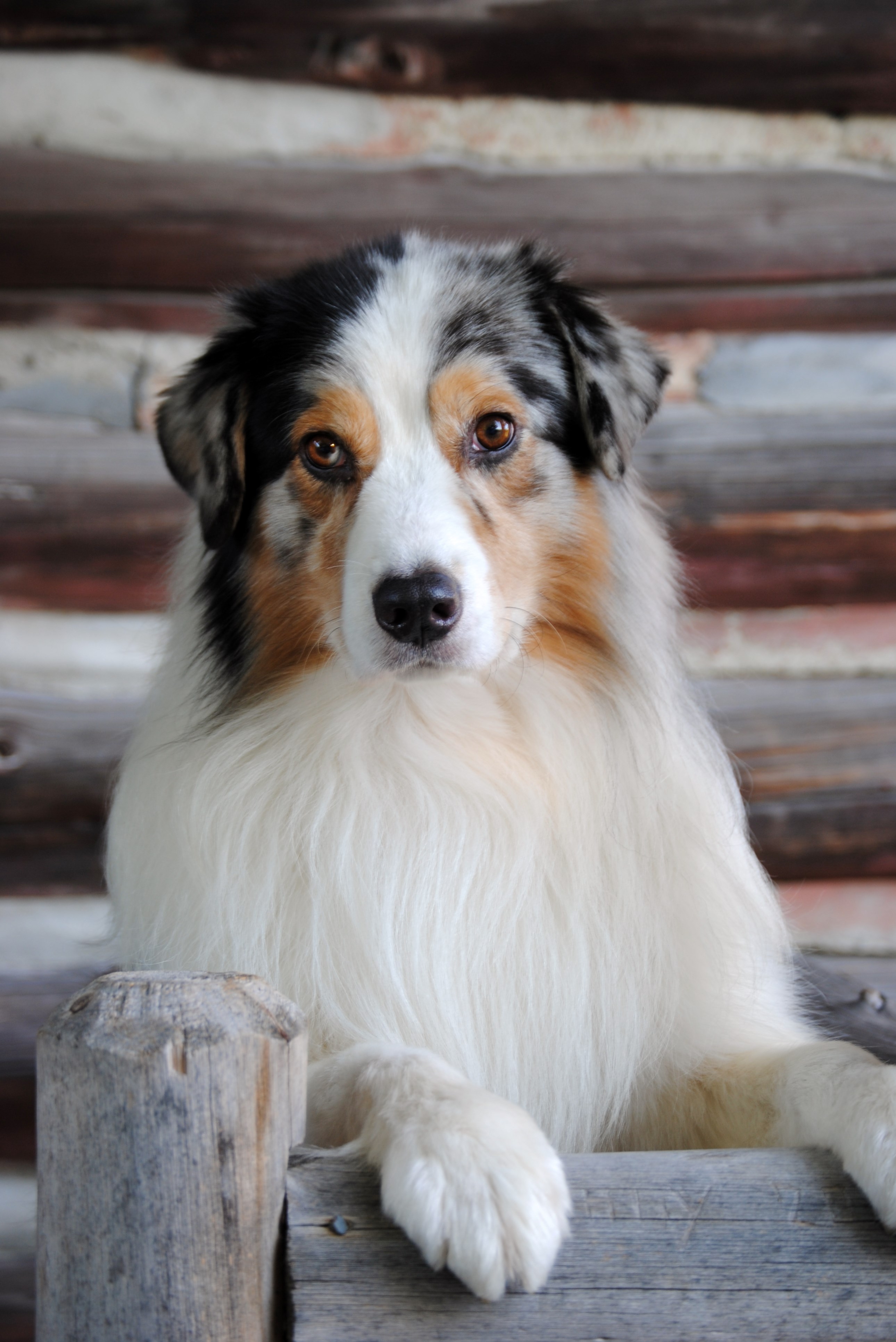 "Buzz"
Sire: CH. Howlyn Dressed To Kill
Dam:  Am/ASCA CH. Watermark Howlyn Shimmer
Whelped:  August 2, 2006 ~ March 7, 2022
Eye cert ~ cleared annually    OFA Hips ~ EXCELLENT     OFA Elbows ~ NormalMDR1 ~ Normal/Normal
Buzzy passed away on March 7th, 2022.   What a long, beautiful life he had.  Buzzy was loved by all that met him.  We had a wonderful journey . Buzz gave his all in everything we did. I couldn't have asked for a better partner and the best little blue buddy that followed me everywhere.
Buzzy's temperament was the best!!   I always say, "Buzzy was a golden retriever in an aussie suit".  Buzzy was loved by all that met him.     This little boy did everything I asked of him and one of the most talented dogs I've had a pleasure of training and trialing.
Thank you Linda for this beautiful boy!!
Rest in peace my sweet boy, I will miss you with all my heart. . Say hi to Mom, George and Stormy. My Mom loved her Buzzy Wuzzy.
Mom and Buzzy
Buzz is from a good friend of mine, Linda Howell of Howlyn Aussies.   I have always admired the Australian Shepherd and decided that I would love to train an Aussie for obedience and agility.  All of the Howlyn Aussies have a sweet disposition and train ability  Like Parker, Buzz is a repeat breeding.
Buzz finished his championship on September 12th, 2009 at the Kennel Club of Niagara Falls KC show.   Buzz was entirely owner-handled to his American Championship, it has been a pleasure to be his co-pilot while he buzzed around the ring.
2010 was a very successful year for Buzz in the breed ring.  Buzz finished his Grand Championship in short order and completely owner handled with multiple group placements.  Buzz ended the year ranked 13th in Grand Championship points.
Buzz is a busy boy and is always on the go!! He certainly is living up to his registered name. Watch for this "Live Wire" in the coming years in an obedience/agility ring by you!!
Buzzy is retired from the show ring and enjoys lounging on the couch and being the fun police.
Achievements:
Multiple Best of Breeds, owner handled & BOB from the classes  (AKC & ASCA)
Multiple Group Placing, owner handled.
Multiple HIT's in AKC & ASCA
#1 Utility B, #1 Open B & #2 Blue and Golden for 2014 with USASA.
#4 Open B, # 7 Utility B & #4 for Blue and Gold for 2013 with USASA.
#5 Open B, #8 Utility B & #6 for Blue and Gold for 2012 with USASA.
ASCA CDX ~2011 ASCA National
#1 Aussie for Grand Championship Points in NY 2010
#9 Open B dog for 2010 with USASA
#2 Novice B dog for 2009 with USASA
September 2010 ~ New ASCA CD
July 2010 ~ New AKC Grand Championship
June 2010 ~ New ASCA Championship
February 2010 ~ New CDX
Multiple High In Trials from Novice B from AKC (WLTC 199 and TVKC 198 1/2) and ASCA.
Buzz is ranked 6th for 2008 for Rally Novice B for Aussies
September 2009 ~ New Championship
June 2009 ~ new CD
May 2009 — Buzz has had a wonderful May. At the USASA National at Purina Farms, Buzz takes a 2nd place in a very large Open Blue Class (owner handled).
February 2009 ~ new RA title.
June 2008 ~ new RN title
Pedigree

Parents
GrandParents
GreatGrandParents
SIRE

CH Howlyn Dressed To Kill

(black tri)

 CH Briarbrook Sharp Dressed Man

CH MY Main Man of Heatherhill, HOF
CH Briarbrook Silver Sequence
CH Trebo Howlyn Caramel Apple
(red merle)
CH Propwash Manape Ghostrider
CH Trebo Apple Crisp

DAM

 Am/ASCA CH Watermark Howlyn Shimmer

(blue merle)

CH Arboretum's Ilex Montana
CH Terra-Blue Just Too Hot, HOF
CH Accolade A Toute Vitesse, CD
CH Hearthside Unforgettable
CH Hearthside & Terrablue Beauwood
Agua Dulce Windsurfin' Sally
                                                          2